new
improved
fixed
Content Creator
Development Environment
Learning Environment
APIs, Reports, & Integrations
Accessibility
This release contains a large number of new features, many of which relate to the product's interface. Specifically, we added the ability to select different interface types from inside the creator or when launching a sandbox, which enables tools like Jupyter Notebook, phpMyAdmin, and RStudio to take up the entire screen real estate. This leads to a drastically improved user experience when these tools are all that are needed. Read more about it on our
blog
!
New Features:
Added support for RStudio.
Added support for selecting different interfaces that skip using the "default" interface Next Tech has built.
Added support for content "overlays" that prevent content from launching before a user decides to click it.
Added the ability to enable "embed mode" on embeds that removes certain interface elements.
Added a setting for disabling help sidebar on an account level.
Added a setting for disabling the sandbox documentation link on an account level.
Added ability to set course metadata that can then be used to filter contents with in the API.
Improvements:
Sandbox user and related settings can now be changed even before the sandbox loads.
Bug Fixes:
Fixed wrong message being shown for unshared checks that pass in the Creator.
Fixed hidden checks not showing as passed for content creators.
Fixed content CSV exports not ordering by position.
New Features:
Added interfaces for desktops, Jupyter Notebook, phpMyAdmin, RStudio, and terminals.
Accessibility Improvements:
Corrected focus order in the New File modal.
The directory sidebar is no longer announced by screen readers or accessed by keyboard when hidden.
Improve the focus order of the directory sidebar toggle.
Improvements:
Sped up the launch of tools like Jupyter Notebook.
Bug Fixes:
Fixed web browser URL bar becoming disabled in some sandboxes.
Bug Fixes:
Fixed code snippets scrollbar not working in Firefox.
APIs, Reports, & Integrations
New Features:
Added ability to search content using course metadata set in the content creator.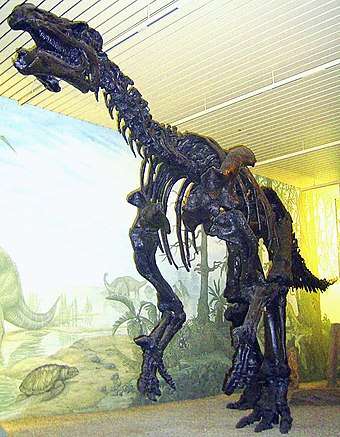 Iguanodon, named in 1825, is a genus of ornithopod dinosaur that existed roughly halfway between the first of the swift bipedal hypsilophodontids of the mid-Jurassic and the duck-billed dinosaurs of the late Cretaceous.